Teaching
Guitar lessons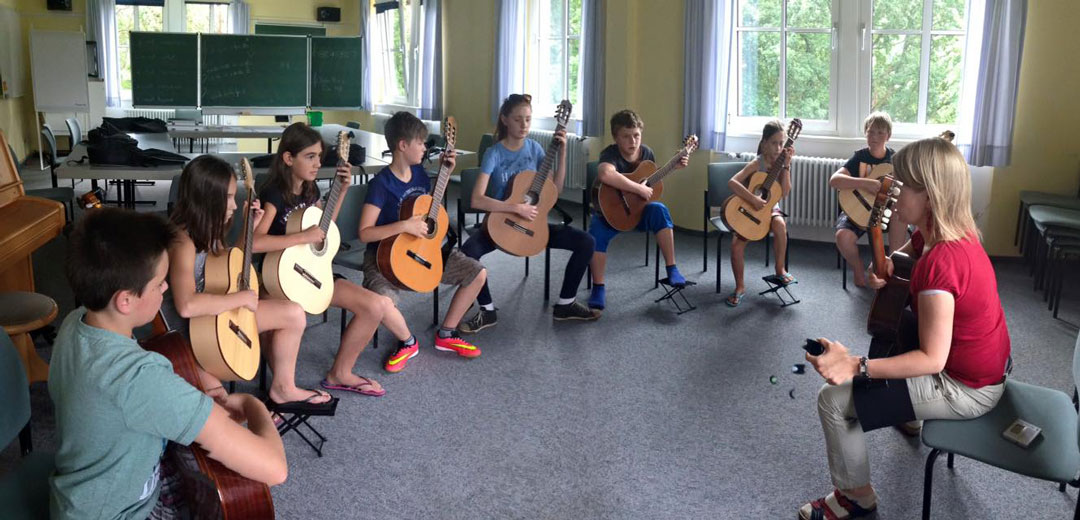 Since 2009 Madlen has been teaching at various music schools. She gained her first teaching experience at the School of Music Eberhard in Stuttgart-Weilimdorf and at the Music School Unteres Remstal eV.
She has been working for a year as a lecturer for guitar at the "Landesjugendzupforchester" Brandenburg Berlin and the "Landesjugendzupforchester" Thuringia.
Since 2013 she has been working full-time at the music school of Erfurt and supervises a guitar class with pupils of 6-52 years. In addition to the instrumental private lessons, she gives chamber music lessons, acts as a lecturer in youth guitar ensemble (cond. Holm Köbis) and manages the childrens plucking orchestra at the music school with 30 players.
Her students have been able to achieve some success in various competitions, such as:
Noah Plota (*2003)
1st prize and 25 points at the regional competition "Jugend musiziert" 2018
Scholarship of the Thuringian government für musically high skilled children and adolescents 2018
1st prize at the "Youth Music Days Bad Sulza" 2016 and 2017
2nd Prize and 23 points at the competition "Jugend musiziert" 2016 in Kassel, category "guitar duo"
2nd Prize at the "Roland-Zimmer-Competiton" for guitar solo in Hohenstein-Ernstthal
25 points and a special prize of the district administrator Hildburghausen in category "Guitar Solo" at the National Competition "Young Musicians" in 2015
2013 and 2015 "very good" when Intenationalen Anna Amalia Competition Weimar
Elias Kertzig (*2005)
1st prize and 23 points at the regional competition "Jugend musiziert" 2018
In 2015, 2016 and 2017 Madlen was invited as a lecturer for "Basic Training I" of the federal government for plucked and folk music Saar (BZVS) and will teach in Ottweiler guitar, guitar technique and chamber music.
Her fascination for teaching and the diversity of learning of children and adults is still growing. That is why she visits the 2015 training "Music Physiology in the artistic life" to serve her students optimal from the beginning in terms of posture, ergonomic movements and expression on their instruments.